Ron Tan is the Executive Chairman & Group CEO of neon Group and the CEO/President of Victory Hill Exhibitions, a wholly-owned subsidiary of neon Group. As the key executive of neon, Ron managed to transform the company to become one of the fastest-growing companies in Singapore.
Ron spearheaded partnerships with international studios such as Disney, Marvel, Hasbro, Universal, Lionsgate, 20th Century and Warner Bros., and also successfully established partnerships with governments of the world for their Cultural IP – Machu Picchu from Peru, and Ramses the Great (Ramses II) from Egypt and more. These partnerships enable neon to constantly expand its global footprints and bring impactful experiences to visitors all around the world.
He has also brought neon to greater renown, bagging awards in Singapore and the region, with the most recent being the inaugural "Best Managed Company Singapore Award 2021" organised by Deloitte and individually for Ron, "EY Entrepreneur of the Year Award", organised by Ernst & Young in the year 2019.
Ron led 3 rounds of fundraising for neon in the year 2019, 2021 and 2022, raising a total of approximately SGD500 million for the company's strategic expansion. NEON welcomed CITIC Capital, EDBI, the investment arm of the Singapore Economic Development Board (EDB) and Pavilion Capital on board in 2019. The fundraising round in April 2021 saw Seatown Holdings International and Qatar's Doha Venture Capital, joining the already strong stable of shareholders in NEON. 65 Equity Partners, an independently managed wholly-owned investment platform of Temasek came on board in October 2022 with a fresh investment of SGD150 million, fueling the global expansion plans of the Group.
In April 2023, Ron was appointed as a Board Member of the Sentosa Development Corporation (SDC) and currently sits on the Ministry of Trade and Industry's (MTI), advisory panel for the Sentosa-Brani Master Plan, to redevelop Sentosa and Pulau Brani into a game-changing leisure and tourism destination.
An alumnus from The Chinese High School and Hwa Chong Junior College, Ron was awarded a scholarship by the Singapore government to pursue his Bachelor of Science degree at the University of Hawaii at Manoa where he graduated with a perfect 4.0 GPA.
Ever the thought leader, Ron brings a dynamism that translates into a strong track record of performance and turnaround in high-paced organisations.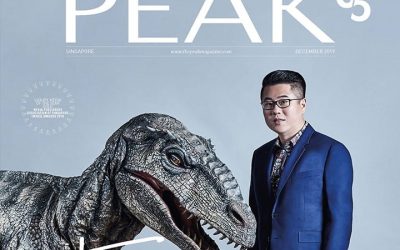 To comic book devotees and movie buffs, Ron Tan has the best job in the world. As executive chairman and group CEO of Cityneon, he gets to call the shots when building theme park sets and exhibitions filled with superheroes, robots and dinosaurs. But getting there...
Cityneon Executive Chairman & Group CEO, Ron Tan, Wins EY Entrepreneur of the Year
Signature Showcase – How Singapore's Cityneon Leveraged IP for Inspired Growth Webinar
NLB Prominent Speaker Series with Ron Tan, Executive Chairman & Group CEO of Cityneon Holdings
Speech from Mr Ron Tan, Exec Chairman & Group CEO of Cityneon on Landing New R&D Facility in China