Marvel Avengers S.T.A.T.I.O.N. Welcomes Guests in Sanya Today!
Marvel Fans Unite!
Explore the Marvel Cinematic Universe and embark on a journey with the Avengers!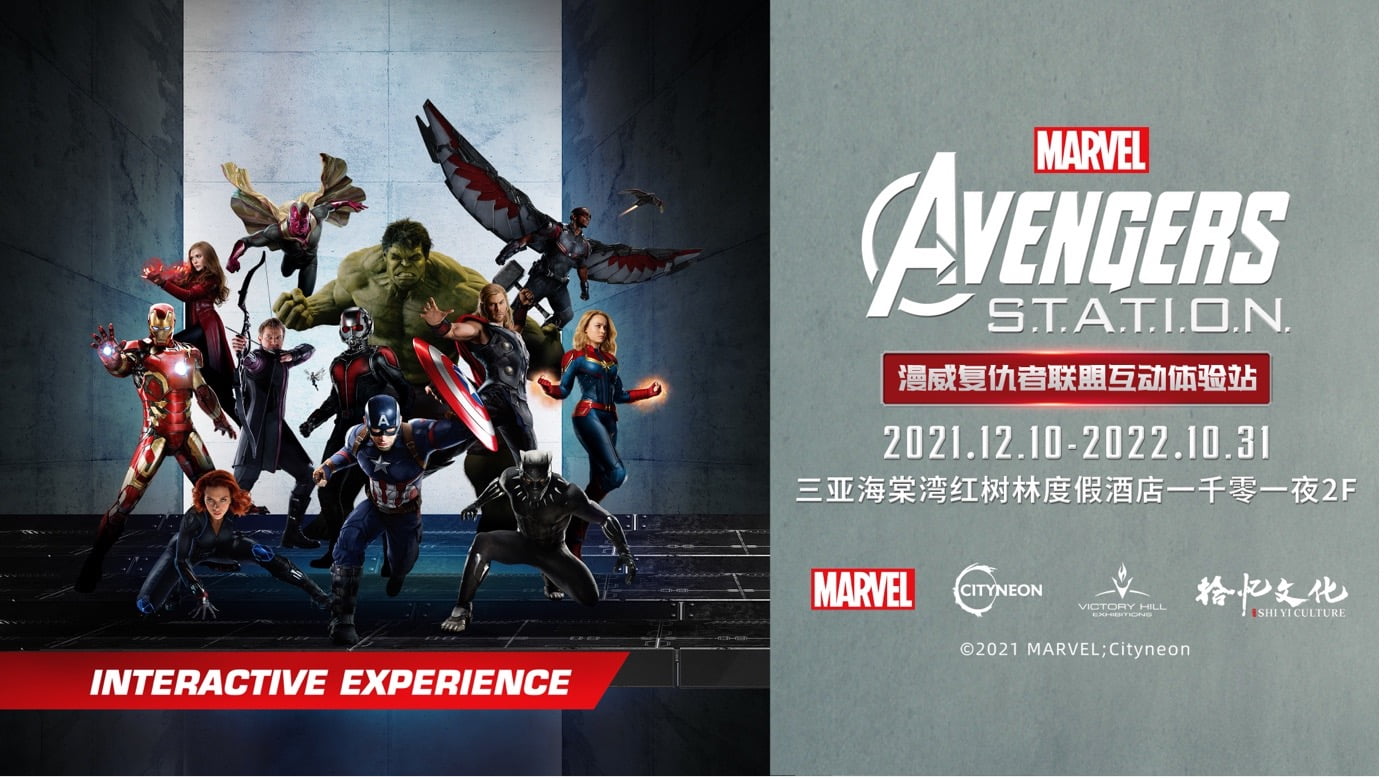 SANYA, CHINA – December 20, 2021 – The highly-anticipated Marvel Avengers S.T.A.T.I.O.N. officially opens in The Mangrove Sanya today, tickets now are available on Shiyi official Mini Program, Fliggy, Ctrip and Meituan.
The Marvel Studios Films continue to be one of the most popular movie franchises in the 21st century, and here, at Marvel Avengers S.T.A.T.I.O.N., audiences have the chance to dive deeper into this unforgettable universe as they train to become a S.T.A.T.I.O.N. agent.
Mr. Nero Huang, general manager of Fujian Shiyi Culture Communication said "The opening of Marvel Avengers S.T.A.T.I.O.N. offers a new experience to this tropical island. Visitors from both local and other providences will be the witnesses of this great exhibition."
"The interactive experience is an absolute blast for fans of the series. We believe Marvel Avengers S.T.A.T.I.O.N. will be one of the most popular attractions in Sanya." says Mr. Ron Tan, Executive Chairman & Group CEO of Cityneon Group.
Mr. Shen Wei, General Manager of The Mangrove Sanya said: "We are honoured that Marvel Avengers S.T.A.T.I.O.N. chose our hotel and we believe the interactive experience and our hospitality will bring our guests a wonderful memory."
Marvel Avengers S.T.A.T.I.O.N. has travelled to more than 20 cities, including New York, Las Vegas, Paris, Singapore and London, and now, it will finally arrive in Sanya for an incredible interactive and immersive ten-month run. This story-driven walk-through exhibit takes you deep into the world of Marvel's Avengers without glasses or any equipment.
The Instagrammable must-see exhibition features multiple rooms dedicated to your favourite Avengers characters from the Marvel Cinematic Universe, including Captain America, Iron Man, Captain Marvel, Black Panther, Black Widow, The Hulk, Thor, Hawkeye and more. Along with getting up-close-and-personal with original props and costumes straight from the big screen, guests are invited to:
Revel in awe at Iron Man's "Hall of Armor"
Explore Bruce Banner's lab, providing insights into the mind of the mean, green, rage-machine called the Hulk
Gain access to Captain America's "Top Secret" personnel file
Inspect Black Widow's arsenal of high-tech weapons
Learn about the "Super Soldier Serum" that transformed Steve Rogers in Marvel Studios' Captain America: The First Avenger
Witness Captain America's legendary shield up-close
Experience the Kingdom of Wakanda in the Black Panther exhibit
And so much more!
After completing the entire mission of Marvel Avengers S.T.A.T.I.O.N. you will go into the on-site merchandise area, which has a large number of genuine souvenirs and memorabilia, including action figures of the Marvel Super Heroes, super cool T-shirts and bags.
Address:
The Mangrove Sanya, Haitang Bay, Sanya
Operation Date & Time:
December 20, 2021 – October 31, 2022
10:00 – 22:00 Daily (last admission is 21:00)